In our daily lives, we come across many cards, such as ID cards, membership cards, and credit cards.
We use these cards to identify ourselves to public or government institutions, buy goods, or confirm cardholders using our photo, name, identification numbers, and expiration dates.
These types of plastic card printing include two different ways – one is bulk printing and the other is customized desktop card printer printing.
Among them, desktop card printers are available to issue personalized card designs immediately, are divided into two technologies:
Both card printing methods can immediately card issuance, however, if you look closely, each technology has its own characteristic and differences.

Since new users may not be familiar with these printing methods, this chapter will explain how the cards we use in our daily lives are printed and usher guidelines that can help you choose the right printer in the future.
---

What is Direct-to-card printer?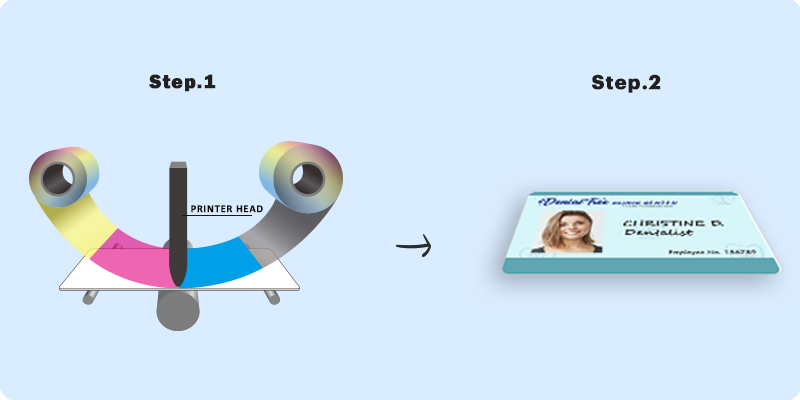 A Direct-to-card printing is a method of colors directly on the card surface as the meaning of "Direct".
This printing process is not very different from the paper printers we use.
Step 1
The printhead of a direct-to-card printer applies heat directly to the surface of the ribbon.
The dye contained in the ribbon is sublimated to a plastic card and printed
Step 2
The printed card is issued

What is Retransfer card printer?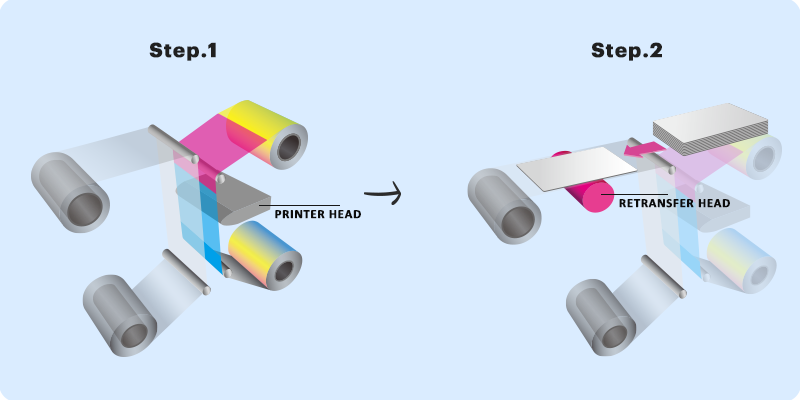 Unlike direct-to-card printing where the card image is printed directly onto the card surface, a retransfer printer will print the image onto a retransfer film, then that image is laminated / transferred from the film to the card.
That's why it is called a "retransfer card printer" as a structural characteristic.
Step 1
The print head heats the ribbon surface directly and transfers the dye from the ribbon to the retransfer film for printing
Step 2
The printed retransfer film is moved to the position where the card is waiting, and the retransfer head heats the retransfer film to transfer the printed area onto the card, and then the printed card is issued.

Let's study closely!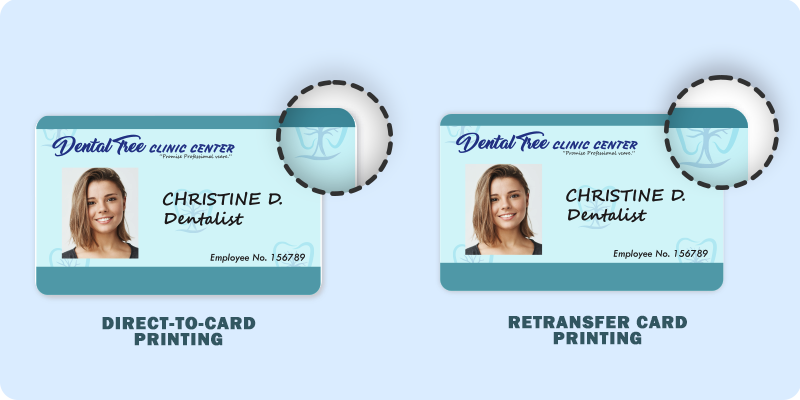 There are significant differences between direct-to-card printing and retransfer printing.
1. PRINTING AREA
Direct-to-cad printer leaves a small unprinted margin on both edges of the card (Approximately 0.5mm) in order to prevent the printhead's surface and ribbon-cut that may occur due to interference between the edge of the card and the printhead.
However, the retransfer card will print the image onto a retransfer film, and then the image is transferred to the card surface, not directly using the printhead, so it produces a full-bleed (over-the-edge) card.
2. CARD TYPE
Direct-to-card printer is a dye-sublimation printing method, a plastic card should dye-receiving layer that can transfer dyes directly to the card surface.
Due to the card printer head characteristic, which is flat and has a certain level of strength, in case the plastic card surface is uneven or bent, there may be parts that cannot be printed.

On the other hand, retransfer card printer is relatively unaffected by card surface material or condition.
3. PRINTING QUALITY
With direct-to-card printers, the card surface condition will affect print quality.
Depending on the card type and the smoothness of the surface, output quality may not be consistent, and color differences may occur.

On the other hand, Retransfer card will print the image onto a retransfer film, and then the image is transferred to the card surface, so they have consistent and deep color output and can provide higher print quality than the direct to card printer.
4. PRINTING SPEED
Direct-to-card printing is a simpler and faster process than retransfer card printing.
5. CONSUMABLES
Direct-to-card printers only need a ribbon for printing.
Retransfer card printers require to retransfer film and a ribbon.
6. COST
Direct-to-card printers have a simple structure compared to retransfer card printers, and the product price is relatively reasonable,
and because it does not use retransfer film, the issuing cost of each card is also more economical.
---

What type of card printing technology should I choose?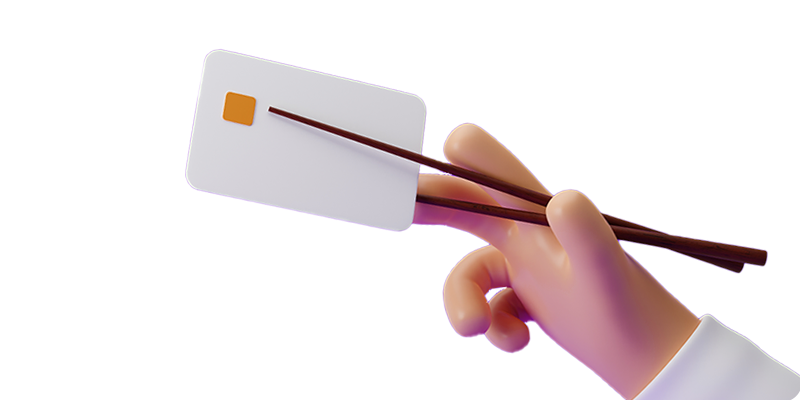 There is no right or wrong answer.
Both card printing technologies are optimized for immediate card issuance.
users can experience a variety of card printer size and shape options at an affordable price.
It also produces print quality close to a card printed by retransfer card printer.

Users need to know that due to the characteristic of the printing method, a card with a dye-receiving layer and an even surface is required. Even though there may be a little unprinted margin on both edges of the card, the direct-to-card printer is an ideal choice for creating your own card with an affordable product price, and print speed.

users recognize that it enables over-the-edge printing (full-bleed) with results at a level similar to offset printing quality.
In particular, the demands that meet various card designs, services, and security requirements, especially, in the financial market, are gradually increasing in companies, government offices, and large retail markets.

We recommend you choose a card printer that meets your demands and objectives based on the two different card printer technology's pros and cons.
---
For more information about the , contact your worldwide IDP sales representatives.

#cardprinter
#direct-to-card
printing
#retransfer
card
printing