After COVID-19, lots of non-face-to-face cultures have spread and the demand for self-service kiosks is accelerating in the card printer market in areas such as banks, universities, schools, or leisure facilities.

In addition, large organizations with many cardholders usually use different card templates and sometimes different card types to best manage their loyalty program levels, electronic access control, logical access, and "flash-pass" requirements.
Many customer-facing companies use self-service kiosks to help facilitate the printing of their cards quickly and easily.
In line with the growing demands of self-service kiosks,

IDP has recently developed a compact multi-hopper that is designed with
a new block-like structure to be less restricted by the internal space compared to the existing SMART-51K kiosk equipment and SMART-70 multi hoppers, which has a great advantage.
---

What is a Compact Multi-hopper?





The multi-hopper reminds me of a Lego that I used to play with as a child because it is a small block-type cartridge that can pile up on top of each other like legos.

There are 3 different types of card cartridges and all of them are detachable.

The biggest advantage of this multi-hopper is that a user can customize the hopper by adjusting the height and it can perfectly fit various sizes of self-service kiosks as per market demands.

IDP's new compact multi hopper can be used as a card dispenser without a card printer.
Plus, customers can utilize a multi hopper in two ways - used with "SMART-51 printing engine" or any "favorable card printer".



As examples below, users considering a multi-hopper card printer within a self-service kiosk provide
a minimum of 2 to a maximum of 8 hoppers and its great flexibility and autonomy for instant card printing or for high volume issuance.






IDP's Compact Multi-Hopper offers: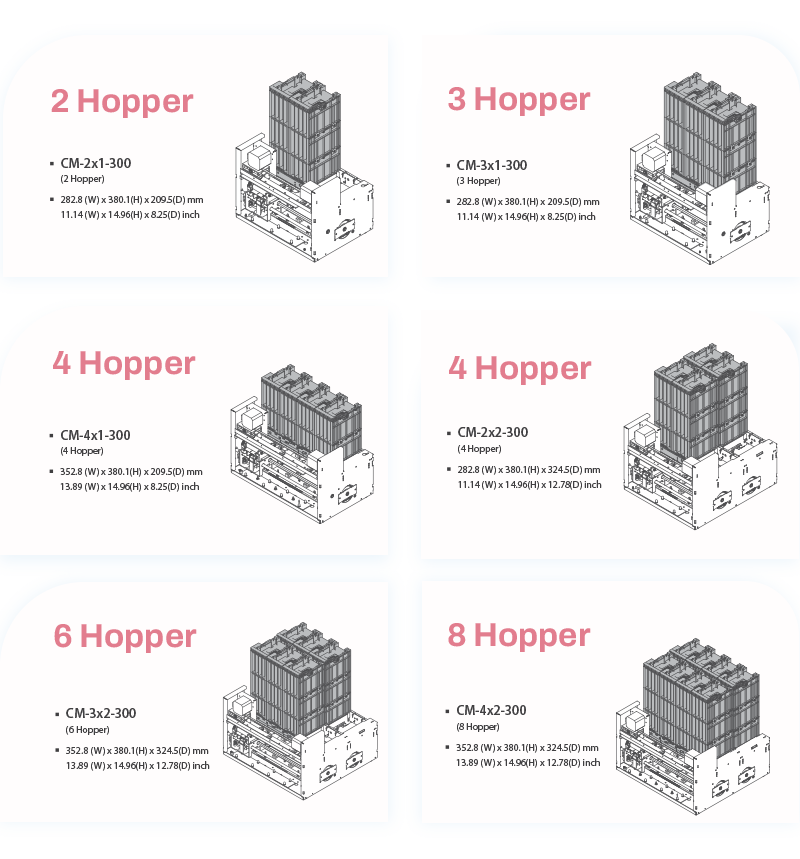 • Up to 8 hoppers holding up to 300 cards each for a maximum of 2400 cards
• It is the industry's smallest size/footprint
• Opened block-type cartridges to reduce miss-loading of cards
• Reduced maintenance as a large multi-hopper system inside a kiosk will require fewer reloads


---

Compact multi-hopper VS SMART-70 Multi-hopper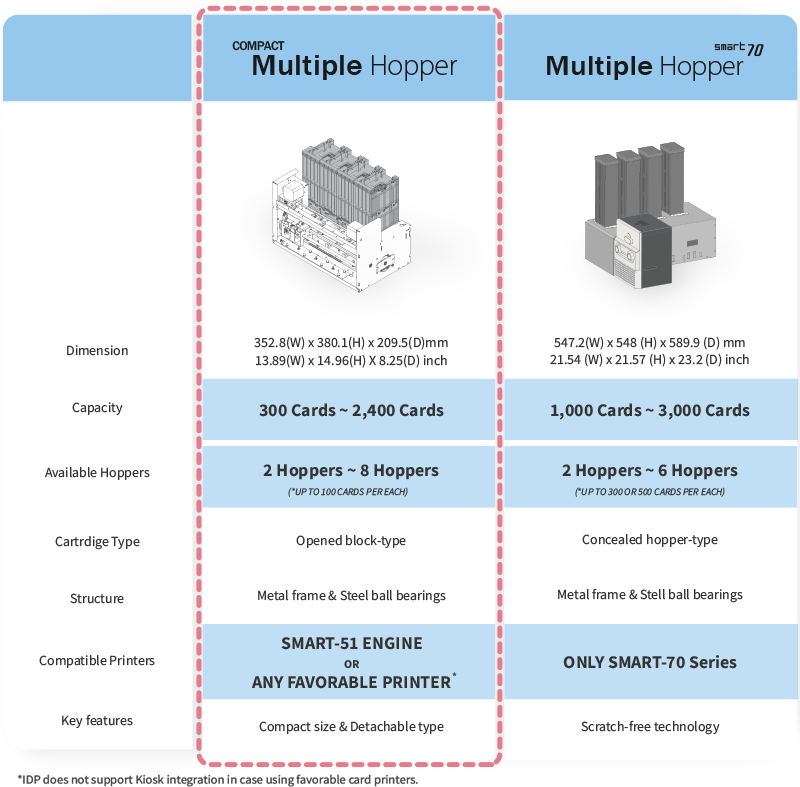 Check out IDP's Kiosk card printer ranges!
There are two different types of stand-alone card printer hoppers you can choose from in your markets.






Compact Multihopper Video



---

For more information about Compact Multihopper or SMART-70 Kiosk equipment, contact your worldwide IDP sales representatives.



#Kiosk
#Multihopper
#Compactsize
#Self-serive